30th Indonesia Forum Postgraduate Roundtable, 29 March 2014
By Hani Yulindrasari (Roundtable Organiser and PhD in gender studies, Melbourne University)
The 30th  Indonesia Forum Postgraduate Roundtable was convened on Saturday, 29 March 2014.  It was held in Yasuko Hiraoka Myer Room, Sydney Myer Asia Center, University of Melbourne.
The response was very strong, with a total of 45 people attending. This time, 17 students presented their research.
The students discussed their research, ranging from topics on state-owned enterprises and government objectives, bureaucracy and development, Indonesian military reform and human rights, post-issues operating performance, struggle over customary land, foreign policy and peacemaking diplomacy, the criminal-justice system, Islam and democracy, voting behaviours, literacy practices among Indonesian domestic workers in Hong Kong, Indonesian medical internships, school children's well-being, language learning, urban planning and infrastructure engineering.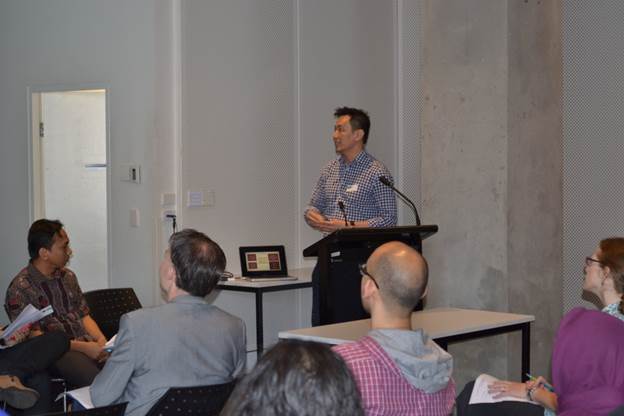 Dr Kate Mcgregor opened the roundtable and gave an introduction to the forum. The roundtable consisted of three presentation sessions and six group discussions. The sessions and groups were formed based on research topic and discipline. Each group was chaired by a Melbourne University staff member. Thanks to the six staff who were involved in the 30th  IF postgraduate roundtable: Professor John Murphy, Associate Professor Charles Coppel, Dr Edwin Jurriens, Dr Helen Pausacker, Dr Amanda Achmadi and Dr Kate Mcgregor.
Most students felt that the discussion was very useful and very excited to learn about the diverse research on Indonesia being undertaken and to meet other students with similar research interest. The roundtable ended with a delicious Indonesian lunch. Thanks to our caterers Diana's Kitchen and to all who attended.