Indonesia Forum Book Launch 'Tiger Stone' by Deryn Mansell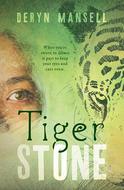 The University of Melbourne's Indonesia Forum is delighted to sponsor the Booklaunch of 'Tiger Stone' by Deryn Mansell (Asia Education Foundation, the University of Melbourne).The novel will be launched by Professor Virginia Hooker (Australian National University). Ms Dina Indrasfitri (freelance journalist and artist) will also be sharing her impressions. Music at the event provided by Melbourne Community Gamelan.
About the Book: When you're sworn to silence it pays to keep your eyes and ears open. Tiger eyes, tiger spirit, tiger stone. Only a daughter could unlock the stone's power. Java, fourteenth century. The villagers are fearful of Mbah Merapi, the rumbling volcano that overshadows their lives. Kancil, the lowliest kitchen servant, knows the real danger is human but is fatherless and mute – and she will lose everything if her identity is revealed. How can Kancil warn the villagers of the danger they are in? Deryn's novel is aimed at the Young Adult/teenage reader – but also a good read for adults!
Copies of the book will be on sale at the launch. Drinks and refreshments will be served so please 'book' your free ticket via eventbrite before the rsvp date of November 6. The venue is not wheelchair accessible.
http://www.eventbrite.com.au/e/indonesia-forum-book-launch-tiger-stone-by-deryn-mansell-tickets-13695217765
Time and Date: 6.30-8pm November 10 2015
Location: Upstairs 210 Berkely St, Carlton, the University of Melbourne (off Grattan St Melways 2B C8). The venue is not wheelchair accessible.