Forty Years of Silence film screening, 11 February 2014
On February 11 the Indonesia Forum sponsored a Documentary Film Screening of 'Forty Years of Silence: An Indonesian Tragedy' and Q and A with the filmmaker Dr Robert Lemelson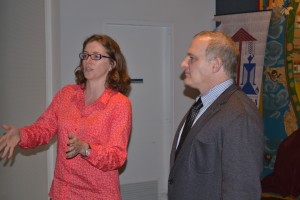 Over fifty attendees watched the film and shared their responses with the filmmaker. There were also many questions about the reception of the film in Indonesia and abroad and about the interest of young Indonesians in this work.
Dr Lemelson was visiting the University of Melbourne for the Cultural and Global Mental Health Film Initiative hosted by his collaborator, Dr Erminia Colucci, of the Centre for Mental Health (School of Population and Global Health) where he also screened 'Standing on the Edge of the Thorn' and 'The Bird Dancer'.
Dr. Robert Lemelson is a documentary filmmaker and anthropologist whose work focuses on culture, psychology, mental illness, and personal experience.
Dr Lemelson is based in US where he is Adjunct Professor at UCLA Dept. of Anthropology, President of the Foundation for Psychocultural Research, and Founder of the documentary film company, Elemental Productions. For more information on his films see: http://elementalproductions.org/